The power of a robust regional transit network
Continuation of the Broadway Subway to UBC supports regional prosperity, affordability and sustainability by connecting research, health, innovation, employment and housing destinations. Learn more.
Transit Today
150,000
daily trips to and from UBC
1,000+
buses per day flow through UBC's bus exchange
500,000+
pass-ups every year on the Broadway–UBC corridor
80,000
daily trips to and from UBC on transit
Planning for SkyTrain to UBC
Throughout the project planning process, TransLink has sought feedback from the general public and it is anticipated there will be another period of public engagement during the next phase of technical planning. Thank you to members of the UBC community who shared their thoughts with TransLink, your voice helps show decision-makers SkyTrain to UBC is an important regional project and that residents of Metro Vancouver want the line to UBC completed. You can see the results from the most recent TransLink survey and stay up-to-date on the project here.
"By extending the skytrain to UBC, you will allow commuters to get to campus faster and free up space on buses that would take the commuters for those who skytrain is not an option."
Hannah
Delta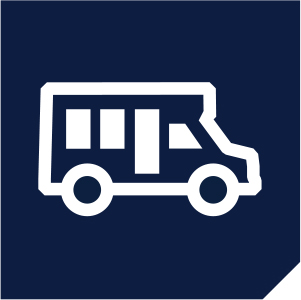 "I'm a researcher at SFU and would love to visit UBC more to build collaborations between the universities but rarely go because of the commute."
SFU Researcher
Burnaby
"My lengthy transit commute discouraged me from staying on campus after class and getting involved in student clubs, extra-curricular activities, and enjoying the greater campus."
Paul
Richmond
"Having such a long commute has been extremely challenging and negatively impacted my university experience, including my ability to consistently be at campus early for work and classes, or staying late in the evening for an event."
William
Surrey
Will the Broadway Subway go all the way to UBC?
No. The Broadway Subway ends at Arbutus Street. Transit riders heading to UBC will be required to transfer to B-Line and local route busses heading to UBC. It is anticipated that on opening day of the Broadway Subway UBC-bound ridership will exceed capacity so people will be waiting for space on B-Line busses when they get off of SkyTrain.
When will the UBC extension be built?
The Broadway Subway to Arbutus Street is expected to open by 2025. Planning and design for the completion of the extension to UBC could advance during construction of the first phase, leading to an opening day of 2030. This timeline assumes full funding commitments by all levels of government by 2021.
What is UBC's vision for rapid transit to the Vancouver campus?
UBC envisions a seamless extension of the Broadway Subway to the UBC Vancouver campus. The University is engaging our community, regional partners and senior levels of government to determine the best way to accelerate and fund this second phase.